2019 Summer Storytime Series
Join us at the Forsyth Galleries every 2nd & 4th Thursday at 10 a.m. for an art themed story and a project. We feature large, projected illustrations and surround sound in a museum setting perfectly cozy for adults and kids alike. Art projects are book-themed and encourage adults to create alongside kiddos.
Cost is a suggested $5 donation per family, per session (includes 2 hours of FREE PARKING). Checks can be made payable to UNIVERSITY ART GALLERIES or payable in cash. We unfortunately, cannot accept credit cards at this time.
* Due to its popularity, all storytime events are at capacity; no new reservations are being accepted. To get on a wait list, contact Jenn Korolenko at jkorolenko@uart.tamu.edu.
"The Cat and the Bird" by Géraldine Elschner
June 6, 2019 @ 10 a.m., Forsyth Galleries, Memorial Student Center, MSC 2428

A treasured painting by Paul Klee is the basis for this whimsical tale about a cat, a bird, freedom, and friendship. A cat lives in a house filled with toys, but every day she dreams of being free like the bird she watches through the window. Finally with the bird's help, she is able to escape and dance on the roofs of the city by moonlight. This lovely story unfolds in a series of playful, brilliantly colored illustrations based on the artist Paul Klee's work. Influenced by the artist's bright palette and use of shapes and line, the book culminates in a dazzling reproduction of Klee's Cat and Bird. Accompanied by information about the artist and this iconic painting, the book invites appreciation of the unfettered joyfulness that makes Klee one of the most universally loved artists of all time.
"Through Georgia's Eyes" by Rachel Rodriguez
June 20, 2019 @ 10 a.m., Forsyth Galleries, Memorial Student Center, MSC 2428

Georgia O'Keefe saw the world differently from most people. As a child she roamed the prairie with a sketch pad in hand, struggling to capture on paper what she saw all around her. At art school she learned to speak in paint on canvas. Living in New York, Georgia felt confined by city life. She longed for inspiration, for vast expanses of space, and she found them both in the red hills and silent deserts of New Mexico. Lyrical and vivid, this is a portrait of an exceptional artist, a woman whose eyes were open to the wonder of the world.
"When Pigasso met Mootisse" by Nina Laden
July 11, 2019 @ 10 a.m., Forsyth Galleries, Memorial Student Center, MSC 2428

When Pigasso met Mootisse, what begins as a neighborly overture escalates into a mess. Before you can say paint-by-numbers, the two artists become fierce rivals, calling each other names and ultimately building a fence between them. But when the two painters paint opposite sides of the fence that divides them, they unknowingly create a modern art masterpiece, and learn it is their friendship that is the true work of art.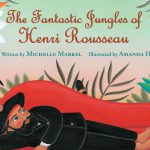 "The Fantastic Jungles of Henri Rousseau" by Michelle Markel
July 25, 2019 @ 10 a.m., Forsyth Galleries, Memorial Student Center, MSC 2428

Henri Rousseau wanted to be an artist. But he had no formal training. Instead, he taught himself to paint. He painted until the jungles and animals and distant lands in his head came alive on the space of his canvases.
Henri Rousseau endured the harsh critics of his day and created the brilliant paintings that now hang in museums around the world. Michelle Markel's vivid text, complemented by the vibrant illustrations of Amanda Hall, artfully introduces young readers to the beloved painter and encourages all readers to persevere despite all odds.
"The Most Magnificent Thing" by Ashley Spires
Aug. 8, 2019 @ 10 a.m., Forsyth Galleries, Memorial Student Center, MSC 2428

Ashley Spires has created a charming picture book about an unnamed girl and her very best friend, who happens to be a dog. The girl has a wonderful idea. "She is going to make the most MAGNIFICENT thing! She knows just how it will look. She knows just how it will work. All she has to do is make it, and she makes things all the time. Easy-peasy!" But making her magnificent thing is anything but easy, and the girl tries and fails, repeatedly. Eventually, the girl gets really, really mad. She is so mad, in fact, that she quits. But after her dog convinces her to take a walk, she comes back to her project with renewed enthusiasm and manages to get it just right. This funny book offers a perfect example of the rewards of perseverance and creativity.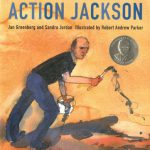 "Action Jackson" by Jan Greenberg and Sandra Jordan
Aug. 22, 2019 @ 10 a.m., Forsyth Galleries, Memorial Student Center, MSC 2428

One spring morning the artist Jackson Pollock began work on the canvas that would ultimately come to be known as Number 1, 1950 (Lavender Mist). The authors use this moment as the departure point for a unique picture book about this great painter and the way he worked. Lyrical text, drawn from Pollock's own comments and those made by members of his immediate circle, is perfectly complemented by vibrant watercolors that honor his spirit without imitating his paintings. A photographic reproduction of the finished painting, a short biography, and a bibliography make this a beautiful book for readers of all ages.